The Preservation Scene
On our big Chinley model railway over the next six weeks or so we are running trains hauled by locomotives that are preserved. All of the prototype locomotives exist today somewhere in this country. You may have seen some of them on a heritage railway near where you live.
For example, the BR standard 2-6-4T No. 80080 is based at Butterley in Derbyshire on the Midland Railway Centre's line, and it has recently worked on the Ecclesbourne Valley Railway, too. Our model is running with a local stopping train that calls at Chinley station.
The picture below shows our model of the preserved Midland compound 4-4-0 No. 1000 calling at Chinley station. Recently the real engine has been on display inside the Barrow Hill Roundhouse museum near Chesterfield.
There are nearly twenty models of preserved engines operating at Famous Trains. Come along and see if you can recognise any of them!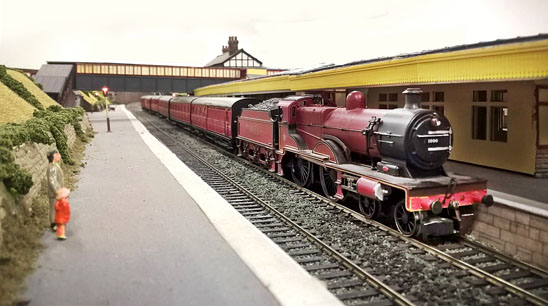 Colin Boocock, President
10 September 2022