Derby's biggest model railway!

Open every Saturday, Sunday and Monday (see opening information) from 11am to 4pm.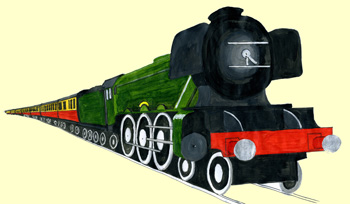 Watch the model trains go by – learn about our railway history and how railways operate – keep dry when it rains in the Park! This is a Derby-based charity working to improve the local community by providing entertainment and education in an enjoyable way.
Cheapest entrance fees
Adults pay £3.00 for a day ticket, children pay £1.50, and families pay £6.
We believe that these are the cheapest entry prices for any public model railway in the country in a public location such as a city park.
Dogs are welcome
Well-behaved dogs are always welcome on our premises, along with well-behaved owners.
Why a model railway?
The million visitors each year to Markeaton Park in Derby have required more facilities there. The idea of a model railway has brought something of unusual interest in a city where the railway is a key part of its history.
In 2013, we refurbished a large building in the park and Derby City Council is leasing the building to us for fifteen years to support our operations.
A generous benefactor, Derek Chandley, gave us his 40 foot-long model railway. This is an 00-scale layout based on Chinley station in Derbyshire in the 1950s when it had four main line tracks running through it. We have extended the model railway to almost 60 feet in length. It has storage loops for 16 full length trains so that visitors can see plenty of variety. Visitors may see the progress made when they make repeat visits. We open on 150 days each year, principally on weekends and Mondays.
Visitors can watch a succession of model trains go by, and can see what happens at terminals, goods yards and on the main line. There will be much, much more. Look through this web site to discover our world of fun!
A stunning Shelf Railway is now up and running. Click here to download and view a video.
How to reach us
By Road
Famous Trains model railway is situated in Markeaton Park, west of Derby City Centre, by the main car park (parking fee payable) which is accessible from the A52/A38 Markeaton Island Roundabout. The nearest post code is DE22 3ZE.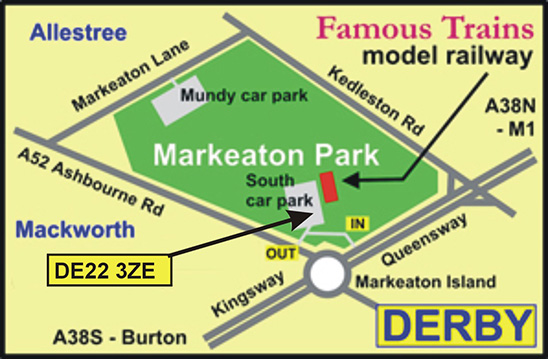 By Bus
The Trent Barton Service Swift bus from Derby bus station calls at at the Markeaton Park gates, a stop which is five minutes walk from the Famous Trains model railway building.
Alternatively, an Allestree bound bus may be caught. Alight at Derby University and walk south across the park to reach the Famous Trains model railway building.
The same busses may be caught to get back into town.
Customer Surveys
Famous Trains model railway is always in the first quarter of Trip Advisor ratings belonging to activities in Derby.
What do you think of Famous Trains model railway? Click Here to take a trip to the Trip Advisor website!