Our Member of the Year 2016.
Sixteen-years-old Christopher Bunting is Member of the Year 2016 at the Famous Trains model railway charity, which is based in Markeaton Park, Derby.
The charity's president, Colin Boocock, today handed over a certificate that recorded Chris's outstanding contributions to the success of Famous Trains during the year. Colin says: "It is a pleasure to recognise Chris's special input to Famous Trains using his knowledge of electronics, his infectious enthusiasm, and his ability to put ideas into effect rapidly. He has proved to be a valuable member of our team."
After receiving his certificate, Chris went on this day to repair a faulty auto-train stop, make another member's reluctant model locomotive work well, and then set up a model railway photographer with working flash gun which Chris had designed himself. The model camera flashes as certain trains go by.
His previous work has included wiring up over thirty station lamps, designing and making timers for push-button working of roundabouts in the model fairground, fitting a timer to the model of Heage windmill that stands over the village of Darley Green, and helping with track and wiring repairs on several model railways. He has also made model buildings and assisted with track repairs.
The old adage is that "a model railway is never finished!" We are certain that Chris will find much else at Famous Trains to apply his enthusiasm and skills in the year to come. At home he is building several model locomotives, and has tried out a home-built model diesel railcar on the Darley Green branch line layout at Famous Trains. We say, "Well done, Chris!"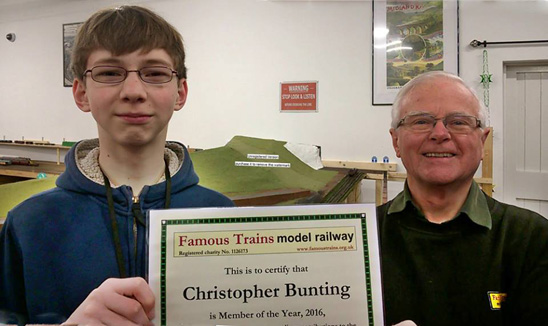 Colin Boocock, President
22 December 2016