Richard and his Train Reunited
While visiting the Famous Trains model railway today, enthusiast Richard Hanson noticed our OO-scale model of the 1935 Silver Jubilee streamlined train running on our large Chinley model railway. He recognised it as the very same model train he had sold to a dealer in a swapmeet at Burton-on-Trent in January 2011.
Our President, Colin Boocock, remembered that he and trustee Peter Stanton had been present at that swapmeet and had bought the train the same day for Famous Trains. It was the very first 'famous train' that Famous Trains ever owned.
Richard was thrilled to see that his train, which he had sold reluctantly because it could not get round the sharp curves on his own model railway, was being put to such good use in Markeaton Park in Derby.
Richard was so excited by this that he has joined Famous Trains as a full member! Our photograph shows him operating the Silver Jubilee today, happily reunited with what had once been his own train.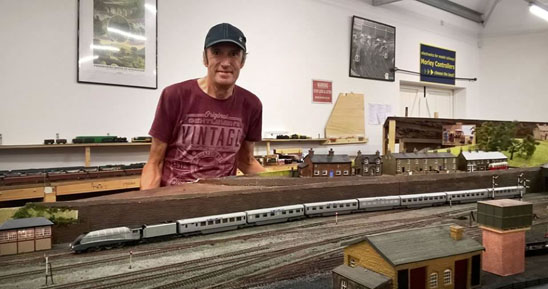 Colin Boocock, President
12 August 2018